09-09-2022
« Sustainable Innovation » with EDF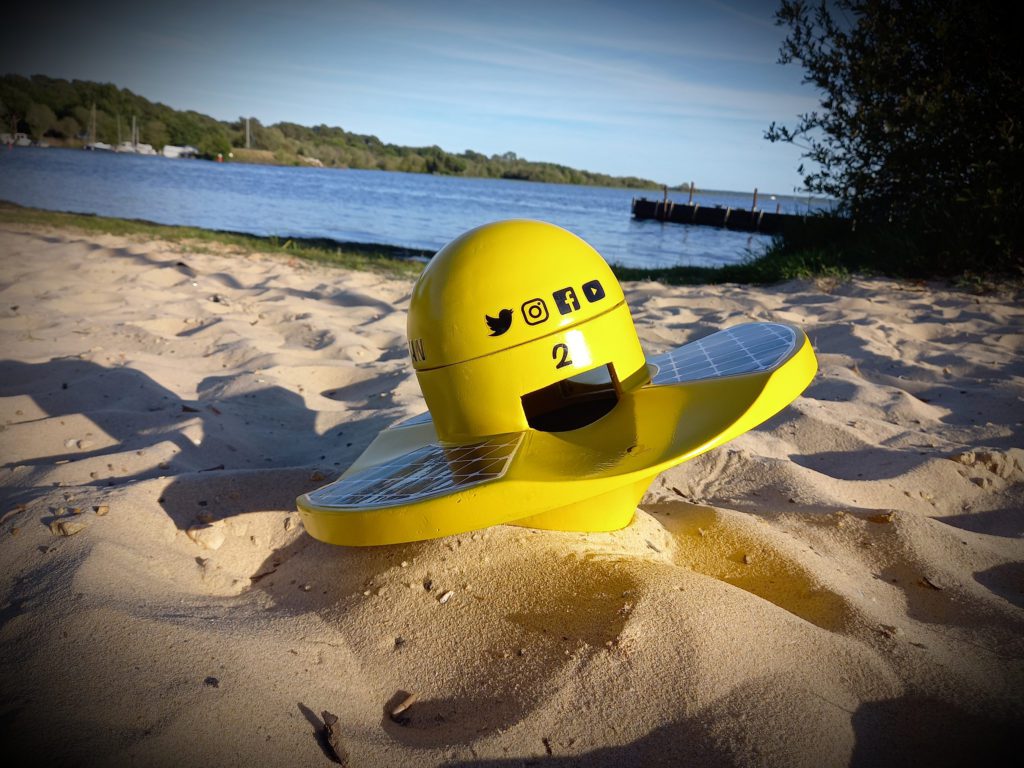 The Grand Pavois La Rochelle is focusing on the theme of « Sustainable Innovation » with EDF. Initiated in 2019, during the show, this partnership aims to present the new solutions that will be on the market in the future. As a stakeholder in the energy transition, EDF defends and encourages eco-design and offers companies the chance to adapt their socio-economic model with the addition of new functions and the study of new uses.
In the world of water sports, the move to electric is still underexploited despite a major development potential. The advantages of it are clear: less air and water pollution, less noise, vibrations, reduced costs, government subsidies, etc.  The boating of tomorrow, it starts today!
Base on this observation, EDF and Grand Pavois La Rochelle have set up a number of actions at the show with two spaces (one on land and the other in water) « Sustainable Innovation » with EDF dedicated to start-ups working on innovative projects for the nautical sector. A round table on innovative solutions for sustainable ports and yachting will also be proposed.
To be discovered in the « Sustainable Innovation Start-ups with EDF » area:
ON-LAND-Ibaïa Boats (La Teste-de-Buch-33) and its HouseBoat concept launched in 2022. The HouseBoat is the perfect combination of eco-housing and soft mobility. Nomadic housing, developed more specifically to be used on rivers offers all the modernity and comfort of a house, whilst also allowing you to get around with a limited environmental impact. Three types of boats are now available for different uses and purposes.
ON-LAND Although a large number of Marine Protected Areas (MPAs) have been created over the past 10 years, many of them lack the human and financial resources to ensure their conservation mission. BlueSeeds (Bordeaux – 33) is a platform created in 2018 that aims to help MPA managers meet their financial needs and build a sustainable strategy. Impact evaluation and assessment, support and financing, development of solutions, BlueSeeds provides practical assistance to MPAs in constructing their financing and establishing a concession. It also offers training in financial management, has developed a mooring management platform, and currently coordinates 15 conservation projects. Their objectives are to ensure the financial sustainability of conservation projects and maximise their economic, environmental and social impact.
ON-LAND-Life Ocean (Biscarosse – 40), in collaboration with an engineering school in the Basque Country, has developed a prototype of a filtering buoy that collects the 10 most commonly found types of floating waste in port areas. Acting as a sort of pool skimmer, waste and hydrocarbons are captured and trapped in this device. The creation of a network of filtering buoys placed at strategic areas around ports will make it possible to create a preventive barrier against the dispersion and spread of waste in the ocean.
ON-LAND-FendSea (Arcachon basin – 33) offers a new sustainable and ecological fender concept that increases the potential for use. It offers optimum protection for boats, but above all it provides additional storage space, helping to save money and increase comfort while on board. This new storage concept can, for example, become your external waste bins on-board with a capacity of 50L, thus allowing you to manage and sort your household waste aboard.
ON-LAND-The objective of Compact Carbon Catcher from C.I.A is to decontaminate diesel engines. (C.I.A. for Conception avec Intelligence Artificielle – Design with Artificial Intelligence – for cleaner air) in La Teste-de-Buch (33). Their system installed on the exhaust pipe, traps the carbon and removes fine particles. This new filtering system uses a box to remove 100% of CO2 emissions from combustion engines. Ultimately, it could be used for diesel boat engines.
ON-LAND-Official distributor of the Waterworld electric engine brand, EcoBoat (Arcachon basin – 33) will be exhibiting the brand's motorisation kits and electric battery packs. The company's mission is to develop, distribute and install electric motorisation systems to help the sailing industry achieve its « ecological evolution ».
ON-LAND-Exclusive Detailing (Sadirac – 33) offers services to embellish, enhance and preserve vehicles and boats. Detailing is a precise process of operations that help you make your boat look like new again… maybe even better. FMGT offers a protective film in treated, scratch-proof, anti-yellowing and water-repellent polyurethane that protects the hull (and any other element that is not immersed, even an interior decoration) and facilitates maintenance. It limits the use of cleaning chemicals, the number of interventions on the hull and the frequency of painting. This product is designed for boats of all sizes but is also popular with Jet Ski users who often handle their vessels out of the water to protect them.
ON-LAND-Created in 2021, the Wisamo team (for WIng SAil MObility), developed around Benoît Baisle-Dailez, the leading initiative, is working on a wind power solution for decarbonising maritime transport. Their project, an automatic inflatable sail is inspired by the Woopy fly inflatable paraglider by Laurent de Kalbermatten and the 3D technology developed by Édouard Kessi for racing boats. A team of about 30 people is currently developing this large inflatable sail for cargo vessels. The solution, composed of a telescopic mast and an automatic inflatable sail, is very easy to install and handle and allows several types of energy to be used to power boats. Michel Desjoyeaux (two-time winner of the Vendée Globe) has used the sail on his own boat and helped the Wisamo team to optimise it. It will be possible to see the sail mounted on Michel Desjoyeaux's boat and meet him at the show.
ON-LAND-Built by Beyond the Sea (Arcachon basin – 33), the SeaKite opens new avenues for all sailors. This kite-powered project based on kitesurfing technology aims to use wind as an energy source. Sails of all sizes produce all or some of the energy required to power the vessel, depending on the sailing area, the vessels' performance and characteristics, and the overall objectives. The famous sailor, Yves Parlier, and his team are developing a resolutely innovative project in the greatest respect for the environment. This revolutionary solution from an environmental, safety and economic viewpoint offers many advantages that will make it an essential solution for ships.
IN-WATER-Created in 2021, Watt & Boat (Saint-Bonnet-Elvert-19) is a manufacturer of electric and licence-free pleasure craft. It will be exhibiting two boats: the Jim Boat Mini 6.50 made entirely from natural fibre and built like a real boat for children, and the Oxfloat, a round and fun e-boat for all the family.
A round table devoted to « Innovative solutions for sustainable ports and sailing »!
On Friday 30 September at 11:00 am, a round table will be organised by EDF at the Sailing Lab. This invitation-only round table will focus on « Innovative solutions for sustainable ports and sailing« . François Soulet de Brugière, President of AUTF Nouvelle-Aquitaine (Association des Utilisateurs du Transport de Fret, the national union of French shippers), Bertrand Moquay, Director of La Rochelle Marina and Vice-President of the Fédération Française des Ports de Plaisance (FFPP), will give their thoughts on solutions for decarbonising ports and sailing. Start-ups will also present their innovations that will help the sector make improvements in this field.
Declaration by Martin Leÿs, Director of EDF Regional Action for Nouvelle-Aquitaine: The 21st century will be maritime!
« The eco-energy transition of the maritime sector and coastal areas is accelerating. It has become a strategic theme in order to respond to a global ambition to combat global warming, preserve biodiversity and protect the oceans. EDF has forged a long-term connection with the world of the sea and coastal areas, especially through its production facilities on the coast and more recently with the development of offshore wind farms. As a major player in the energy transition sector, EDF is committed to working closely with the maritime ecosystem to provide a range of innovative services, particularly in the field of electricity. In line with our aim to build a CO2-neutral energy future, we offer solutions to decarbonise ports and the industries based within them, develop marine energies, invent maritime transport of the future and thus contribute to preserving natural environments. Our local presence, our openness to all the different stakeholders and our integration into the maritime ecosystem enable us to support transitions alongside local players.
It is in this context that, once again, EDF is joining forces with the Grand Pavois Show in La Rochelle to present, along with partners and start-ups, the sustainable solutions which aim to decarbonise the maritime, river and port sectors."