02-05-2023
A MAGICAL FAIRYTALE PYRO-DIGITAL SHOW!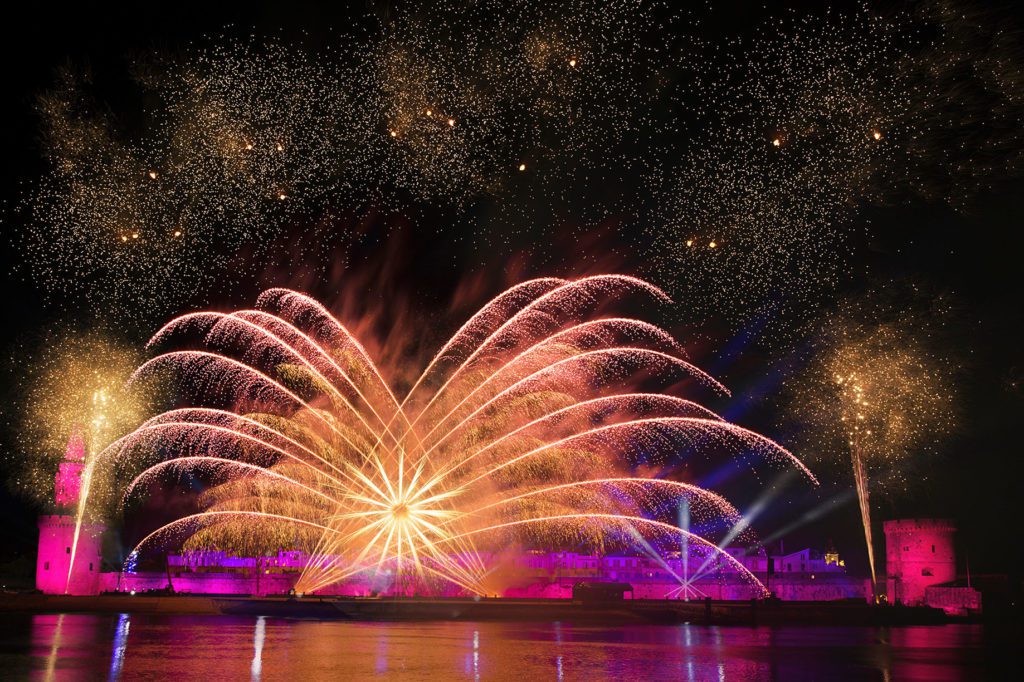 Voiles de Nuit, a free and original three-hour show!
Voiles de Nuit, initially scheduled last year to celebrate the 50th anniversary of Grand Pavois La Rochelle, but cancelled due to the weather conditions, will take place this year on Saturday 23 September in the outer harbour of La Rochelle from 6.30 pm, with the pyrotechnical show starting at about 8 pm.
A much-awaited return after a seven-year absence
Now a global reference in the field of pyro-digital shows, Voiles de Nuit, created and organised by the association Grand Pavois Organisation, offers all a unique and magical evening event. From 6.30 pm, sound, light and boats will immerse visitors in a magical ballet set against the backdrop of the ramparts and towers of a town that has always faced the sea. At about 8 pm, the town will be illuminated with a thousand lights for 45 minutes of magic and emotion.
This event is produced by the group Lacroix-Ruggieri, a partner of Voiles de Nuit for many years, and staged by the internationally famous David Proteau. Placed under the direction of Alain Pochon, President of the association Grand Pavois Organisation, Voiles de Nuit will again combine the land and the sea, history and modernity, fireworks and projections, music and boats. An unforgettable show in view, with more than 30,000 visitors expected on Saturday 23 September 2023!
A 100% eco-responsible show!
Proposed by Grand Pavois Organisation and produced by the company Ruggieri, Voiles de Nuit is now entirely eco-responsible. To that end, Ruggieri will use smoke-free fireworks that generate practically no fine particles, sort waste for recycling, comply with environmental and safety standards, employ reusable firing structures, use 100% biodegradable shell fireworks, remove all polluting components not required for firing, clean the site, sort and remove waste according to sector, raise awareness and involve all staff. Moreover, Ruggieri is now committed to completely offsetting the total carbon footprint of Voiles de Nuit, including the manufacturing of products, their transport, the show's production, the fireworks' combustion and the end of life of the products used. To offset Voiles de Nuit's emissions, several trees will be planted in La Rochelle Communauté d'Agglomération.
Voiles de Nuit means:
1,500 kilos of fireworks – 15 days of production – 120 people working on the event – 10 days of design for the scenography – 3 days of work on site – 3-hour show including 45 minutes of pyro-digital fireworks – Many boats present – More than 30,000 spectators expected
A large number of partners brought together
With the Nouvelle-Aquitaine Region, the Charente-Maritime department, the CDA La Rochelle, La Rochelle marina and the technical services of the Municipality of La Rochelle.
Photo credits: Christophe Blanc / Ruggieri.
Further information: www.grand-pavois.com
REQUEST FOR INTERVIEWS: +33 (0)5 46 44 46 39 – PRESS SERVICE
What you need to remember…
Name: The Grand Pavois La Rochelle, the show for real fans!
The venue: Port des Minimes in La Rochelle
2023 dates: from WEDNESDAY 20 TO MONDAY 25 SEPTEMBER, from 10 am to 7 pm
Guest country of honour: South Africa
Number of visitors: 80,000 visitors expected
High-definition photographs, free of copyright: Press Space www.grand-pavois.com  
Further information: www.grand-pavois.com
Facebook: www.facebook.com/GrandPavois
Instagram: @grandpavois_official
Twitter: @GrandPavois